Kevin Costner's invention can help separate oil
Over the last couple of days, I've seen a number of stories about the actor Kevin Costner promoting an oil-separating machine that could be used to help clean up the oil in the Gulf of Mexico. It works by sucking oily water up a hose, sending it into a spinning chamber, where centrifugal forces separate the oil from the water. According to this NY Times piece, the machine could remove 210,000 gallons of oil from water a day, at 200 gallons a minute.
I'm all for any effort to clean up the mess in the Gulf. But I wondered just how much impact a machine like this would have. I'm a realist. So I got in touch with Jerry Milgram, a professor of marine technology at the Massachusetts Institute of Technology and holder of 12 patents in oil spill cleanup technology.
Milgram watched the video and read the articles. He is not intimately familiar with Costner's machines, but he made a couple of great points.

First, the tests that Costner and his team ran for the press conference show how easy it is to separate diesel from water. The problem is that diesel has a higher surface tension than crude oil. That means diesel repels water more than crude oil does, hence, the machine might not work as well to separate crude from water as demonstrated.
Another problem is that the crude oil out at sea is getting mixed around with seawater and becoming emulsified. This means that water and oil are breaking down on a molecular level and recombining into some other structure. Once that happens, it is nearly impossible to separate the two.
"It's easier to separate diesel oil from water than to separate crude oil from water. It is probably even more difficult to separate weathered, and possibly emulsified crude oil from water. It's crude, but it's emulsified and therefore that makes it more difficult to separate in a centrifugal machine," said Milgram.
Next is the rate of processing 200 gallons per minute. With machines that suck up oil mixed with water, the percent of oil in the water is pretty low, less than 5 percent, which means that the machine has to handle an enormous volume of water. We're talking hundreds of thousands of gallons per day. That might require thousands of Kostner's machines. Which I guess could be good for Ocean Therapy Solution's bottom line. Maybe that's what Costner was referring to when, in the press conference, he said, "I'm just really happy that the light of day has come to this."
Again, I'm not trying to discourage any efforts to clean up the spill. The point is that this potential solution is a drop in a bucket of crude, it's a small fish in a big pond of emulsified oil, its rearranging the deckchairs on the Titanic, which is about to sink into a molasses sea. It's simply not enough.
"The existing equipment is not capable of collecting oil from the sea as fast as it is gushing out of the well," said Milgram.
Unfortunately, no equipment or solution so far comes close.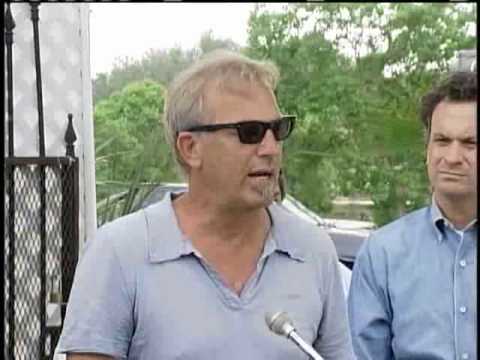 Source